Multapplied's business model is entirely focused on the channel partner. It is designed to ensure that partners can deliver high performance SD-WAN profitably and at scale.
To demonstrate the economic impact Multapplied can have on a partner's business, our team conducted comprehensive research analyzing the financial returns over a four-year period that Multapplied's partners can generate.

The results were astounding: organizations studied by Multapplied saw a composite 143% ROI in year one and 2,645% ROI for a four-year period.
Data points analyzed included:
Revenue
Costs
Payback Month
Annual Return on Investment
Net Present Value (NPV)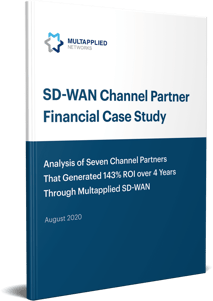 Read about the results today ⮕